New Educational Programs that Meet Today's Challenges
The world of work is central to our lives, constantly changing, and interwoven with society's most pressing challenges. Economic inequality, climate change, race and gender disparities, and public health are all linked to job quality and workers' ability to influence decisions that affect them.
The Labor Center supports workers and their organizations as they respond to today's challenges and develop goals for the future. We conduct applied legal and policy research, develop customized multi-media educational tools, and facilitate new connections among our state, nation, and campus networks. Contact us to discuss how we can help turn your ideas into programs and action!
Here are some examples of our recent initiatives...
Customized Multi-Media Curricula, Toolkits, and Case Studies
Developing Multi-Media Curricula, Toolkits, and Case Studies
In recent years, the Labor Center has been awarded dozens of contracts by national and local unions, workers' centers, and policy groups to develop new multi-media educational materials:
Curricula (slides, handouts, instructors' manuals) on steward education and harassment-free workplaces
Animated videos in English and Spanish on COVID-19 safety, member engagement in bargaining, and wage theft & misclassification in construction
Report, community archive, and case studies analyzing base building techniques used by members of a local workers' center in forming the organization and launching campaigns for social and economic justice
Audio interviews and case study documenting a groundbreaking statewide contract campaign to advance economic and racial justice, led by long-term care workers in Connecticut
Toolkit summarizing research on policy approaches to raising standards in construction 
Train-the-Trainer materials on wage theft and misclassification in construction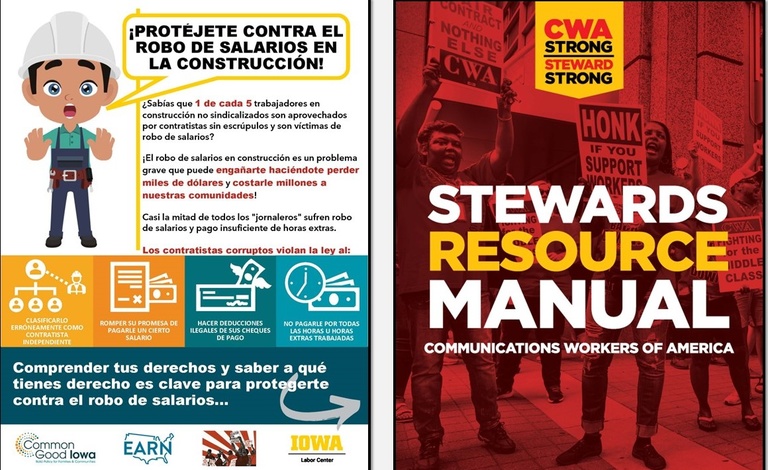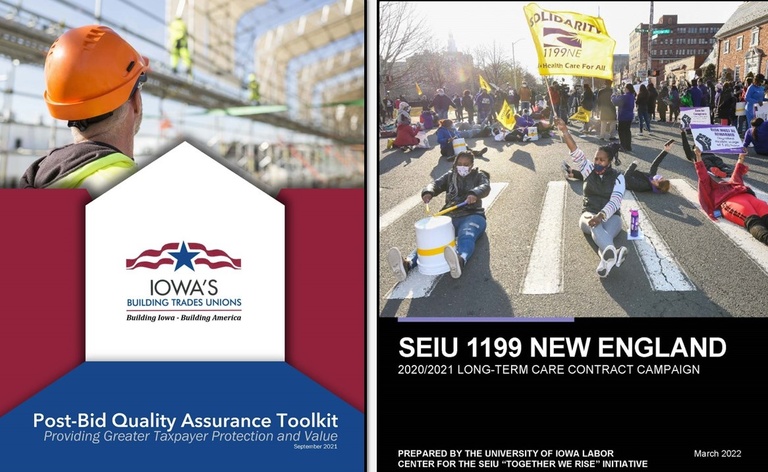 Convening Labor & Climate Initiatives
In early 2021, the Labor Center worked with the Iowa Federation of Labor and the Environmental Law and Policy Center to launch a series of biweekly discussions among labor and environmental leaders from across Iowa. The initiative grew quickly to include participants from over forty labor and environmental organizations committed to finding common ground on two of the most urgent issues of our time – the climate crisis and the crisis of soaring economic inequality. These discussions sparked formation of a new BlueGreen Alliance of Iowa that is working to advance equitable living wage jobs and climate action. The Labor Center hosted an historic labor and climate summit in April 2022, attracting eighty participants who attended workshops led by over a dozen national and local experts. With support from the Hubbell Environmental Law Initiative and the national BlueGreen Alliance, the Labor Center continues to convene meetings of the Iowa BlueGreen Alliance and is currently working with law students and faculty to develop public education materials in support of this project.
Advancing Opportunity and Equity in Skilled Construction
The Labor Center is proud to partner with the Iowa State Building and Construction Trades Council, the City of Iowa City, and a diverse network of community organizations to advance new equitable pathways to skilled construction trades careers in Iowa. The Labor Center's Quality Pre-Apprenticeship Program (QPP) addresses several converging needs. Contractors currently report an acute need for skilled trades workers, with demand projected to rise as a result of federal infrastructure investments. Meanwhile, too many Iowans are trapped in low-wage, precarious jobs - including a disproportionate number of women, people of color, and communities historically underrepresented in the trades. 
Registered Apprenticeship programs jointly administered by unions and contractors are widely recognized as important tuition-free, "earn as you learn" pathways that provide comprehensive training, equitable pay structures, and pensions and health benefits. However, many low-wage workers are unaware of these opportunities or face barriers to entry. The Labor Center and its community partners are tackling these challenges through public outreach and education, apprenticeship readiness courses, respectful worksite training for industry leaders, and peer support networks. As part of the QPP, the Labor Center also hosts monthly meetings, conducts leadership programming, and develops public outreach materials for the Iowa Women in Trades Network.